Winter—a time to refill flyboxes with the flies you've lost over the previous season, get more organized, and label boxes in case you happen to lose one on stream or at the lake. This won't necessarily insure you get a lost box back, but I can guarantee that without labelling your boxes, your chances of recovery virtually drop to zero unless you get very, very lucky.
I carry my flyboxes in a large plastic bin, and within that bin, I place boxes within gallon or two gallon Ziploc bags that are labelled for specific fishing requirements. These bags are labelled for: Streamers, large nymphs/general purpose boxes, Mayflies (Pinks, PMDs, BWOs, etc), Caddis, Terrestials/Worms/Eggs, Salmon/Steelhead, Midge, and even bags for specific rivers I fish Like the O, SFB, etc.
By placing your name and contact info on a tag with the box, you can perhaps increase the odds of recovery. Here's an example of a river specific General purpose nymph/dry box for the SFB. I've whited out the address and phone number, but they're all on the label and then the label is covered with packing tape to make it waterproof.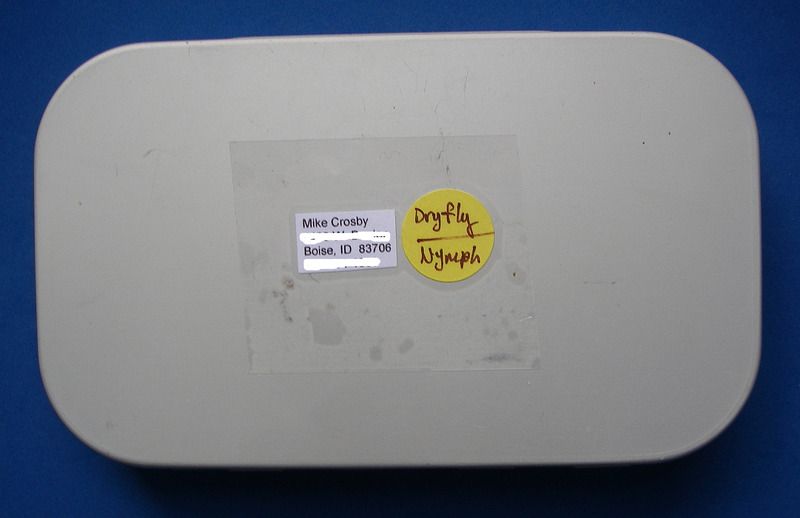 Here's a midge box that gets used on the Lower O and also the O up in Kansas area—you can see the small contact label on the inside of the box under the fly type label:
Granted many folks aren't flyaholics like I am, so you may own that many flyboxes, but ask yourself, do you really want to lose any of them with a slim chance of ever getting them back?